OUR Crab, Avocado and Mango starter has knocked Haggis Hash – a renowned diners' favourite – off the top spot of the best-seller list.
Following the launch of our new A La Carte menu, customers can't get enough of the gluten free option dish, which is served with pickled white crab, smashed avocado, toasted brioche and mango gel.
But some things never change, as the Twice-Cooked Blade of Beef continues to be the preffered main of choice.
The tenderly cooked meat melts in your mouth, and goes perfectly with truffle mash, cavolo nero, butternut squash puree and red wine jus.
Our most popular dessert of the month has been the Creme Brûlée of the day, with Sticky Toffee Pudding following in a close second place.
The dessert, known for its luxurious taste and creamy texture, has become a firm favourite at the Woburn restaurant since a new 'flavour of the week' menu was launched.
Meanwhile customers have been choosing to wash down their dinner with a selection of their favourite alcoholic beverages.
This month's favourite were revealed as Sant Malbec (red wine), Pinot Bella (white wine) and Peroni (beer).
The countdown is on to the launch of our Festive Menu, which will go live at the end of the month.
Chefs are also creating a new A La Carte Menu set for the beginning of November, so keep your eyes peeled on our social media channels for more information.
To book a table at Galloways of Woburn call 01525 290496 or click here.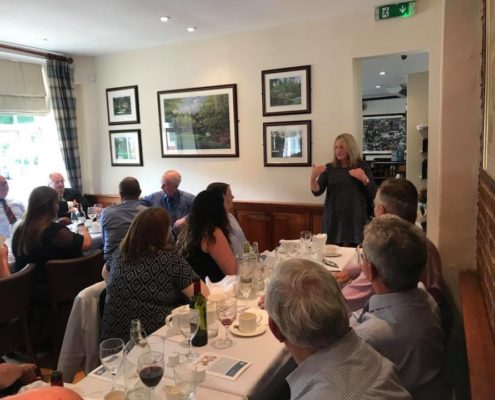 https://www.gallowayswoburn.com/wp-content/uploads/2018/06/35628551_228639694405567_6451641065911877632_n.jpg
720
960
galloway
/wp-content/uploads/2017/07/GL.png
galloway
2018-06-26 18:02:31
2018-06-26 18:02:31
Innovation Comes to MK
https://www.gallowayswoburn.com/wp-content/uploads/2018/05/IMG_2536.jpg
4000
6000
galloway
/wp-content/uploads/2017/07/GL.png
galloway
2018-05-22 12:02:35
2018-05-24 19:20:06
Chairman of MK Hospital joins Concrete Cattlemen
https://www.gallowayswoburn.com/wp-content/uploads/2018/04/Screen-Shot-2018-04-22-at-14.36.39.png
1426
2528
galloway
/wp-content/uploads/2017/07/GL.png
galloway
2018-04-22 13:38:43
2018-04-22 13:38:43
MK's first Poet Laureate leaves MK business leaders in stitches